Please click here to view this week's specials.
Your cart is currently empty
Please note that this is the kid's version of our ultimate sun hat of choice - our boys have been wearing these hats since they were 4 and 2. Protection against burning caused by UV rays is critically important during one's childhood years; a top notch sun hat that protects the entire face, ears, and neck is a must when your children and grandchildren have to be outdoors for extended play.

Here are the key specs on this awesome sun hat for kids:


2.5" - 4" down sloping brim with floatable foam core (brim length depends on size, and provides optimal coverage for each size group)

Full 5.5" neck veil for protecting back of neck

UPF 50+ certified sun rating (mesh vents not rated)

Strategic mesh ventilation on Child and Youth sizes

Water repellent / stain resistant

Packs flat or rolls into a cone for travel

Cleverly designed "breakaway" chinstrap technology

Stroller friendly wear-ability (child can comfortably lie back with back of head resting in stroller)

External sizing band for custom fit in Child and Youth sizes

Lightweight: 1.8 ounces

Sizes: Baby (6-24 mo.), Child (2-5 years), Youth (5-9 years)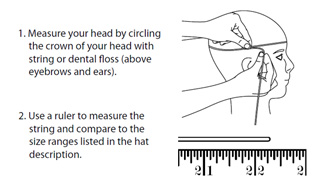 Choose our Baby size if your child's measurement is between 19.75 and 21.75 inches.

Choose our Child size if your child's measurement is between 20.5 and 22.5 inches.

Choose our Youth size if your child's measurement is between 21.75 and 23 inches.

Original Information on the Grownup Version of this Ultimate Sun Hat

At long last, I've been able to add this ultimate sun hat to our natural health catalogue. I stumbled upon it during my time in Alaska in the late 90's, and it's been my summer hat ever since.

I'm a big believer in getting some sunlight on bare skin for natural vitamin D production and other health-enhancing effects. But I also believe that when it comes to sunlight exposure in warm weather, a little goes a long way, and there's no question that too much UV isn't good for skin health.

When choosing sun protection, appropriate hats and clothing are best, followed by sunscreen lotions that utilize physical blockers. Sunscreen lotions that utilize chemical blockers should be avoided, as common chemical blockers almost certainly increase risk of skin cancer over the long term when they react with UV rays within your skin.

I love this sun hat for a number of reasons. It's super light, well ventilated, and offers great protection for the entire face, ears, and neck. Other sun hats that I've tried that have as wide a brim (4 inches) tend to be heavy and rigid, whereas this sun hat feels almost weightless and is easily tucked into a bag when I don't need it.

Over the years, I've gifted this sun hat to almost all of the ladies in my family, as well as nephews and nieces. When walking around the neighbourhood with our sun hats on, we regularly have people stop and ask about them, so I have to assume that they are aesthetically pleasing!

Beyond the 4-inch wide front brim, the brim along the sides is a generous 3.75 inches, while the neck flap measures 7.5 inches. This unique design offers optimal protection for your eyes, nose, lips, ears, cheeks, and neck. It's the ultimate feather-weight UV shield.

The Ultra Violet Protection factor (UPF) is 50+, and the design of this sun hat allows for a comfortable, custom fit via an external sizing band and a chinstrap with cord lock.

It's water repellent, stain resistant, and for times when you don't need neck coverage, you can fasten the neck flap onto the back of the head portion of this sun hat with the built-in lift-up tab.

The body of this sun hat is 100% nylon, while the mesh ventilation is 100% polyester. It's best to hand wash with cold water and mild soap, and to hang dry. No need to iron, as the technology that allows the brim of this hat to offer solid protection holds up even after years of multiple washings.

One of the best features of this hat is that there's nothing rigid at the back that prevents you from lying down, face up, for times when you want to lie back and nap or soak in the sky. The design is such that you can easily pack it flat or roll it into a cone for easy travel; you just want to avoid folding or creasing the brim.

To review the key features of this ultimate sun hat:

Resists water and dirt

The fabric of this sun hat creates a hydrophobic protective barrier between you and the elements. This keeps your hat dryer and cleaner longer, allowing you to extend your time outdoors while staying comfortable.

This fabric also dries 3-5 times faster than normal fabrics, making it ideal for outdoor use and varying weather conditions.

Highest sun protective rating

This fabric guarantees an Ultraviolet Protection Factor of 50+. An UPF of 50 is the highest sun protective rating possible and prevents more than 98% of all UV rays. This level of protection is created using unique fiber weaving techniques, and the incorporation of scientifically formulated, micro-bonded treatments that enhance this protection. These advanced technologies greatly aid in the prevention of sunburn and long-term skin damage. The UVA and UVB protective qualities of this fabric don't wash out or diminish while the fabric is still intact.

This fabric is independently tested and certified using industry leading and internationally accepted, AATCC TM 183-2000, UPF rating standards. Testing is performed continuously to ensure a minimum of "excellent" UPF 50+ sun protective ratings.

Brim flotation

Optimal density closed-cell foam is used to create the lightweight and highly flexible and durable brim that is the calling card of this sun hat. This foam technology allows this hat to effectively float in fresh and salt water, making it especially useful for water-related sports and activities like fishing, boating, swimming, and paddling. The closed-cell foam also helps maintain body and shape for long term use.

Ultra lightweight for ultimate comfort

Engineered to be the lightest and most effective sun hat on the market, you won't find a more comfortable way to protect your face, ears, and neck during outdoor activities.

SIZING

Please note that the vast majority of adults fit easily into our available medium or large sizes. To measure your head, circle the crown of your head with a string or dental floss (above eyebrows and ears). Use a ruler to measure the string and compare to the chart below. Upon receiving your hat, loosen or tighten the rear sizing system for a custom fit. Fit the hat slightly above eyebrows and ears to allow front and peripheral vision. Crown fabric should remain loose.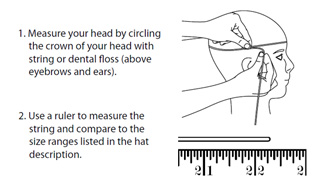 Choose our Medium size if you measure 21-23".

Choose our Large size if you measure 23-25".
Add Your Review
Currently there are no reviews for this product. Share your opinion with others, be the first to write a review.
Please Note
Many of our formulas come with full guarantees; please read the description box of each item that you are interested in for details.
All prices are in US dollars.
If you order from outside of the United States, your customs agency may or may not apply a customs tax and applicable local sales tax(es) to your package.
Newsletter Signup
Each week, receive free tips on how to experience your best health as you age.
Your e-mail address is kept private and you can unsubscribe anytime.