Please click here to view this week's specials.
Your cart is currently empty
Thyroid Response - 90 Tablets
Price:
0.00
$39.95
| | | |
| --- | --- | --- |
| Quantity: | 3+ | 6+ |
| Price: | $37.95 | $35.95 |
Thyroid Response is out of stock at this time, but we will be reintroducing this product soon! We apologize for any inconvenience.
Thyroid Response is a synergistic blend of nutrients, herbs and trace mineral rich foods that support thyroid health and function.

Included are thyroid supportive nutrients such as iodine, selenium and the amino acid tyrosine.

Selenium has been shown in research to play a role in the conversion of T3; iodine and l-tyrosine are required in the production of thyroid hormones.

The blend of whole herb extracts includes ashwagandha to support thyroid function; Sensoril, an ashwagandha extract, revitalizes metabolic processes associated with stress and fatigue.

Additional whole herb extracts include guggul to rejuvenate the thyroid; holy basil to enhance metabolic function; bladderwrack; and coleus forskohlii root, which contains forskolin, an activator of cAMP (cyclic adenosine monophosphate).

This professional grade thyroid formulation also includes additional foods and extracts, an immune blend, and plant-sourced enzymes to enhance bioavailability.

A comprehensive, non-glandular solution, Thyroid Response effectively promotes and supports healthy thyroid function with 100% whole food nutrients.

Here's a look at the nutrition facts panel for this complete Thyroid Response formula: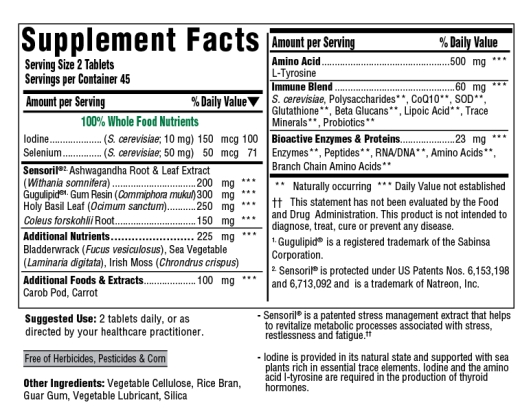 Notes:

The recommended daily dose is 2 tablets, taken in the evening before bed. As with all professional grade supplements, it's best to consult with your personal physician before taking this formula.

Thyroid Response is designed to nourish and support thyroid tissue. My experience has been that it's generally helpful to people with hypo or hyperthyroidism.

Regarding iodine, when it comes from a real food source, I have found that it's supportive of thyroid health, even in cases of hyperthyroidism, including Graves' Disease.

My experience has been that it's fine to take Thyroid Response along with prescription or natural thyroid medication, including synthroid and armour thyroid, though it's prudent in such cases to do a follow-up test to assess thyroid output and TSH within three to six months. But these matters should be discussed with your personal physician prior to commencing Thyroid Response.
Please note that ashwagandha (an ingredient in this formula) should not be taken while pregnant, nursing, or if you are on medication for hypertension unless you have been given consent by your personal physician.
Add Your Review
HI I would like to ask this reviewer if they are still off the thyroid meds and did this product improve the function of the thyroid so that you no longer had to take it? or are you continuing to take it? We search to find those cures for our conditions rather than just another crutch ~ thank you
I have dealt with hypothyroidism for years and had a particularly bad "spell" a couple years ago that warranted an increase in my Synthroid dosage as well as the addition of growth hormone injections. Both of the meds had terrible side effects and I can't say I didn't feel worse because of the meds. I'd had enough and was desperately looking for another way. Having been a long-time follower and fan of Dr. Kim's I decided to try his Thyroid Support Formula. I started out using this formula about six months ago and am happy to report it has worked unbelievably well. I'm off both prescription medications and feel like a new person. Thank you, Dr. Kim.
Please Note
Many of our formulas come with full guarantees; please read the description box of each item that you are interested in for details.
All prices are in US dollars.
If you order from outside of the United States, your customs agency may or may not apply a customs tax and applicable local sales tax(es) to your package.
Newsletter Signup
Each week, receive free tips on how to experience your best health as you age.
Your e-mail address is kept private and you can unsubscribe anytime.