Mini-Flash Sale:
Your cart is currently empty
Vitamin D-3 Drops 2000 IU
A 365-day supply of natural vitamin D drops - 2000 IU per drop. A good solution for people who aren't getting enough vitamin D from sunlight and who can't swallow tablets.

The vitamin D-3 in Carlson's Super daily D-3 Drops is derived from lanolin (natural oils found in sheep's wool).

Each batch is tested for 100% potency and for impurities.

No carriers are used. Each drop contains 2000 IUs of pure vitamin D-3.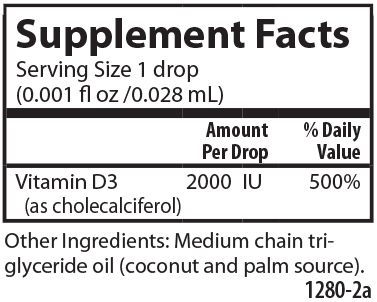 To learn about vitamin D deficiency and how to ensure that you are getting enough to experience your best health, view:

How to Make Sure that You Are Getting Enough Vitamin D
Add Your Review
I cannot say enough amazing things about Dr. Ben Kim. I love all the products I%u2019ve used. This vitamin D has no taste and I drop one drop on my tongue every day. Thank you!!!
Please Note
Many of our formulas come with full guarantees; please read the description box of each item that you are interested in for details.
All prices are in US dollars.
If you order from outside of the United States, your customs agency may or may not apply a customs tax and applicable local sales tax(es) to your package.
Newsletter Signup
Join more than 100,000 readers worldwide who receive Dr. Ben Kim's free newsletter - you'll receive simple suggestions on how to improve your health and mobility, plus alerts on specials and giveaways at our catalogue.
Your e-mail will not be shared with anyone, and you can unsubscribe at any time.