Please click here to view this week's specials.
Your cart is currently empty
Vitamin D-3 Drops 2000 IU
We're sorry to be out of stock of our 2,000 IU D Drops. We hope to have more in by late November. Sorry for any inconvenience that this poses. We still have 1,000 IU D Drops available as well as our organic whole food multi, which provides 2,000 IU of D-3 per serving.

A 365-day supply of natural vitamin D drops - 2000 IU per drop. A good solution for people who aren't getting enough vitamin D from sunlight and who can't swallow tablets.

The vitamin D-3 in Carlson's Super daily D-3 Drops is derived from lanolin (natural oils found in sheep's wool).

Each batch is tested for 100% potency and for impurities.

No carriers are used. Each drop contains 2000 IUs of pure vitamin D-3.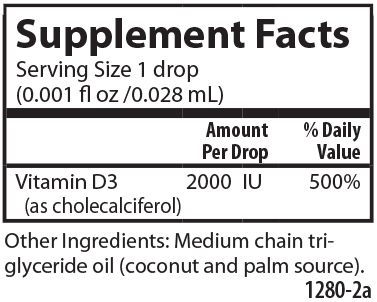 To learn about vitamin D deficiency and how to ensure that you are getting enough to experience your best health, view:

How to Make Sure that You Are Getting Enough Vitamin D
Add Your Review
Currently there are no reviews for this product. Share your opinion with others, be the first to write a review.
Please Note
Many of our formulas come with full guarantees; please read the description box of each item that you are interested in for details.
All prices are in US dollars.
If you order from outside of the United States, your customs agency may or may not apply a customs tax and applicable local sales tax(es) to your package.
Newsletter Signup
Each week, receive free tips on how to experience your best health as you age.
Your e-mail address is kept private and you can unsubscribe anytime.