Mini-Flash Sale:
Your cart is currently empty
Dr. Ohhira's Probiotics Professional Line
Please note that we are able to offer an additional 10% discount which is automatically applied when you add 2 or more boxes to your cart.
How to Choose an Effective Probiotic Supplement
Conventional wisdom asserts that high quality probiotic supplements should be refrigerated to keep the bacteria alive. Based on my research and clinical experiences, I feel that the best probiotic supplements are those that contain friendly bacteria that are resilient enough to survive without refrigeration. Doesn't this make sense? If bacteria in a probiotic supplement are so fragile that they need refrigeration to survive, can you reasonably expect such bacteria to consistently make it through the acidic environment of your stomach and set up shop in the competitive arena of microorganisms in your intestines?
The best probiotic supplements do not require refrigeration. The best probiotic supplements come with food that the friendly bacteria can use to stay hardy. Since March of 2003, I have used our organic green food formula as my primary dietary source of friendly bacteria. If you are currently taking our organic greens on a daily basis, you can be confident that you are providing your body with a rich stream of health-promoting friendly bacteria.
If you are not taking our greens, and you are looking for a stand-alone probiotic supplement, I give my highest recommendation to a professional grade probiotic that is made in Japan. It's called Dr. Ohhira's Probiotics Professional Line.
I first used Dr. Ohhira's Probiotic formula in the care of someone who had a severe case of ulcerative colitis. This particular person had severe inflammation of her intestines, and was unable to tolerate significant amounts of raw vegetables, which is why I didn't use our green food formula in her care. I was so impressed with the effectiveness of Dr. Ohhira's Probiotic formula in this case that I used it in the care of several other people who required significant support in rebuilding gut ecology and gastrointestinal tract health. Over time, I consistently found Dr. Ohhira's formula to be effective for addressing constipation, severe acne, food poisoning, seasonal allergies, nasal congestion, and asthma.
Here are the features that I appreciate most about Dr. Ohhira's professional grade formula:
100% natural; free of preservatives, artificial additives, and coloring agents.
Completely free of chemical fertilizers, pesticides, and herbicides.
100% dairy-free, non-GMO, hypoallergenic, and plant-centered.
The only liquid that is used to make this formula is pure mountain spring water.
Safe for infants, children, pregnant or nursing mothers, the elderly, and those with compromised immune systems.
Dozens of special herbs, leaves, and fruits that grow in the wild in Japan are used to make this special probiotic. The main food ingredients are:
Prunes
Goji Berries
Red Bayberries
Shitake Mushrooms
Japanese Mugwort
Maitake Mushrooms
Kombu Kelp
Pure mountain spring water
These food ingredients are combined with twelve hardy strains of lactic acid bacteria, and the entire mixture is allowed to naturally ferment for up to five years. The end result is a raw and nutrient-rich paste that includes twelve strains of friendly lactic acid bacteria, trace amounts of natural vitamins, minerals, and enzymes, and important byproducts of the fermentation process. These byproducts include:
Naturally developed organic acids (acetic, formic, fumaric, and lactic acid)
Fructooligosaccharides (FOS) - food that helps to keep the friendly bacteria hardy
Hydrogen peroxide
Bacteriocins
Each batch of raw, nutrient-rich probiotic paste is tested by Japan Food Research Laboratories. Only when it is confirmed that the raw paste has accumulated a scientifically preordained level of beneficial organic acids is the paste encapsulated. The raw paste is encapsulated in Japan by the Fuji Capsule Company Limited with a special enteric-coated material that was developed by Dr. Ohhira and Fuji. The enteric-coated soft capsules ensure optimal storage and nutrient preservation of this probiotic formula.
Suggested Use: For the first 60 capsules, best results are obtained by using a "loading dose," which amounts to 5 capsules in the morning and 5 capsules in the evening. Once through with the loading dose, 2 to 4 capsules per day are recommended, half in the morning, and half in the evening. Children under the age of 6 can take 1 capsule daily - if swallowing is an issue, you can cut the end off each capsule and squeeze out the probiotic paste.
Please note that excessive consumption may produce a mild laxative effect. Refrigeration is not required at normal room temperatures. Avoid excessive exposure to moisture, extreme heat and cold, and direct sunlight.
Here's a look at the Supplement Facts for Dr. Ohhira's Probiotics Professional Line: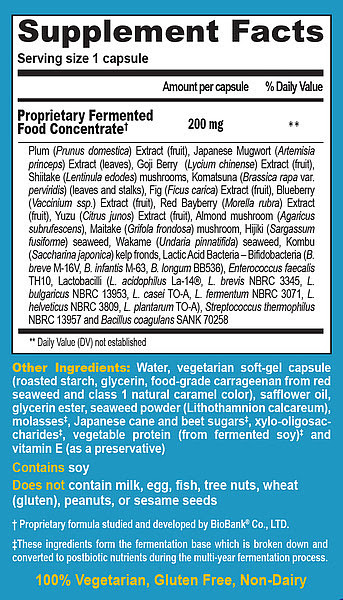 Add Your Review
I have been using Dr O's probiotic on and off for about 15 years. The Professional line is the best ever. Expensive but cheaper than a doctor's visit. It is a flu fighter too.
I no longer have to take laxatives. For the first couple weeks my stomach was very noisy along with enough movement it reminded me of my pregnancy around 6-7mos. My stomach was moving that much. It actually scared me until I figured out it was most likely the probiotics. I feel more cleaned out and new by these probiotics than I ever did doing colonics.
I took this once when I had food poisoning, and I got better fast. Considering I was so sick that I couldn't work, it was worth the price.
I have been using the Dr. Ohhira's Professional Probiotics for over a year now. I cannot believe the difference in my health. My husband who is the cheapest person on earth also takes them and believes whole heartedly they are worth every penny! This 5 year strain through Dr. Ben Kim is less expensive than buying the 3 year green box of Dr. Ohhira's at our local health food store. I cannot stress enough how this particular probiotic changes your life---you will notice a HUGE change almost overnight. I never catch the common colds my co-workers are always getting. I have more energy and my bowel health has never been better. I used to get frequent constipation combined with bouts of diarrhea out of the blue. I never have these issues with continued use of these probiotics. I give them the absolute highest rating and believe 100% this is the best probiotic on the market. I've tried so many other brands, this is the ONLY one I have seen a clear difference on a daily basis.
I love this product and wouldn't be without it. I take 2 first thing in the morning so I have a full hour at least before having any food. I did try the Proteolytic Enzymes and the Synbiotic Plus but for me Dr. Ohhira's probiotics works the best. I do not experience any bloating, diarrhea or cramping and while I typically do not each much processed food or wheat, I did not experience any problems while indulging over the holidays.
I had a terrible, terrible experience with this probiotic which has never happened with any other probiotic. Gave me incredible cramping and severe diarrhea within one hour of ingesting. Kept me up all night. My best guess is that due to mild IBD and acne I am deficient in il-10 which may have caused me to react badly to e. faecalis as there is research on mice that suggests il-10 knockout mice are negatively affected by this particular probiotic strain. I trust that this is a good probiotic for some people, but not for everyone. Thank you for your excellent website and products.
Please Note
Many of our formulas come with full guarantees; please read the description box of each item that you are interested in for details.
All prices are in US dollars.
If you order from outside of the United States, your customs agency may or may not apply a customs tax and applicable local sales tax(es) to your package.
Newsletter Signup
Join more than 100,000 readers worldwide who receive Dr. Ben Kim's free newsletter - you'll receive simple suggestions on how to improve your health and mobility, plus alerts on specials and giveaways at our catalogue.
Your e-mail will not be shared with anyone, and you can unsubscribe at any time.