Weekly Specials
Your cart is currently empty
Organic Dried Mango Slices
Price:
0.00
$19.95
| | | |
| --- | --- | --- |
| Quantity: | 2+ | 4+ |
| Price: | $17.95 | $15.95 |
We are extremely fortunate to have access to these organically grown mangoes from Peru. Sun-ripened and grown without fertilizers, pesticides, and herbicides, all you will receive in each package is a full pound of sweet dried organic mangoes. These mouthwateringly delicious mangoes are completely free of added sugar, sulfates, and other preservatives.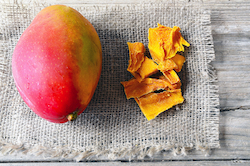 A few pieces of dried organic mango go a long way when you find yourself craving something sweet. They're also an excellent source of quick energy before and during workouts.

Mangoes belong to the same family of plants as cashews and pistachios, all of which come from fruit-bearing trees that are indigenous to tropical regions.

A small handful of dried organic mangoes provides close to 100 percent of the daily recommended amount of vitamin C, making mangoes excellent for supporting tissue healing, collagen formation, and optimal immune function. The same handful of dried organic mangoes provides large quantities of carotenoids, powerful antioxidants that protect all cells against premature degeneration including most forms of cancer.

Some of the beta-carotene in mangoes gets converted to vitamin A in your body, which supports healthy skin, strong mucous membranes, healthy vision, and optimal bone health. Having a regular influx of beta-carotene and vitamin A reduces risk of development of cancers of the oropharyngeal region and lungs.
Beyond being rich in vitamin C and carotenoids, mangoes are also a good source of vitamin B-6, which is essential to keeping your blood vessels and circulation healthy; adequate intake of B-6 helps prevents blood homocysteine from getting too high, which decreases risk of cardiovascular disease and degenerative neurological illnesses like Parkinson's and Alzheimer's.
Mangoes are also a reliable source of dietary fiber which helps support optimal transit time of materials as they travel through your GI tract; a diet that includes sufficient amounts of plant fibers reduces risk of colo-rectal cancer.

Last but not least, mangoes are a good source of polyphenolic antioxidants that also decrease risk of colo-rectal cancer, as well as breast cancer.
Please click here to view the label for our 1-pound package of organic dried mangoes from Peru:





Mango 1-pound in a see-through re-sealable package (not the white package one shown in the graphic above).
No added Sugar, Additives, or Preservatives

Ingredients: 100% Organic Mango
Net Weight: 1 pound (454 grams)

Store in a dry location at room temperature away from sunlight.

Country of origin: Peru

Add Your Review
These mangos are delicious


By far these are the best dried mango's I have ever had. I am addicted to them!! It's very hard to stop eating them as they are so tasty and a perfect chew. I love the fact that there is no added sugar, they have a perfect sweetness. Now that I have tried these, I will no longer buy any other dried mango.
These are way too good! After moving from Hawaii a number of years ago, I have missed good mangoes. These definitely fill the gap! After receiving them a few days ago, my husband, myself, our grandson and anyone else who stops by keep drifting over to the bag and are then looking around, mouths munching away while trying not to look like we%u2019ve gotten into the bag again. Guess this will be a regular purchase now along with the whole food multi, and acerola cherry powder. Well done Dr. Kim!
Talk about a difference between Dr. Kim's dried mangoes and a cheap brand! It was like the difference between a perfect piece of fruit and one soaked in corn syrup (but, according to the label, had none added). I won't get any other brand than Dr. Kim's because the taste of his mangoes is absolutely AWESOME!!
I love fresh mangoes and these dried mango slices are the best I have eaten. Slices are soft,chewy and very satisfying.
These mangoes are soft and, of course, naturally sweet. Also, I appreciate that they're raw and organic. They were the perfect accompaniment for a 5 hour drive. (Fun fact: Mexican Customs currently allows dried mangoes in).
Please Note
Many of our formulas come with full guarantees; please read the description box of each item that you are interested in for details.
All prices are in US dollars.
If you order from outside of the United States, your customs agency may or may not apply a customs tax and applicable local sales tax(es) to your package.
Newsletter Signup
Join more than 100,000 readers worldwide who receive Dr. Ben Kim's free newsletter - you'll receive simple suggestions on how to improve your health and mobility, plus alerts on specials and giveaways at our catalogue.
Your e-mail will not be shared with anyone, and you can unsubscribe at any time.