You are here
Vita-Mix Blender
Posted by
Dr. Ben Kim
on Jul 20, 2007
Over the past two months, my wife and I helped my Aunt start a small but quaint cafe in the city that we live in. After three years of hoping that one or more of our relatives would move up to our city from Toronto, to finally have it happen was a cause for celebration!
Not only were we excited about having my Aunt live nearby, we were also charged up about establishing a smoothie bar for her cafe. I won't exactly call myself a contender for the region's "Best Smoothie Maker" title, but if I can let my let my hair down for just a moment, I'll say that I make some pretty darn good smoothies.
The first step to establishing a smoothie bar at my Aunt's cafe was to purchase the best blender possible. I spent about a week researching commercial blenders on the market, and in the end, I went with a Vita-Mix, the brand used by professional chefs worldwide, as well as by popular juice bars like Jamba Juice and Jugo Juice.
Before the grand opening, my wife and I spent about two weeks testing dozens of smoothie recipes in our kitchen. Right from the get-go, we were blown away by the quality of the smoothies that came out of the Vita-Mix blender. It turned fresh and frozen berries, mangos, bananas, and other fruits into incredibly smooth and creamy smoothies that just weren't possible to make with our Cuisinart.
The final menu of healthy smoothies that we created for the cafe looked like this:
Berry Blast Smoothie
(Blueberries, strawberries, banana, nut or soy milk)
Marvelous Mango Smoothie
(Mangos, banana, freshly squeezed orange juice, nut or soy milk)
Peanut Butter Power Smoothie
(Banana, peanut butter, nut or soy milk)
Chocolate Power Smoothie
(Banana, cocoa powder, peanut butter (optional), nut or soy milk)
We used a combination of room temperature and frozen fruits to make all of our smoothies.
To make the smoothie bar run as efficiently as possible, we pre-measured the frozen ingredients that went into each smoothie and packaged them into small, freezer-friendly containers, to be kept in the freezer until their names were called. Whenever an order came in for a particular smoothie, my Aunt could easily combine the contents of one container with the appropriate wet and room temperature ingredients in the Vita-Mix blender, and let it create a fresh smoothie in less than 20 seconds.
An interesting thing happened during the first week of the cafe's operation: for a couple of days, my Aunt forgot to add room temperature fruits to the frozen fruits and wet ingredients, which led to the Vita-Mix churning the frozen fruits and wet ingredients into smoothies that were so thick that they tasted like ice cream! Her customers loved them so much that she decided to continue making them that way. Now I think it's most accurate to call her smoothie bar a "dairy-free ice cream bar," but it's still called a smoothie bar, and her regular patrons love eating their "smoothies" with straws that have flattened ends that act as mini scoops.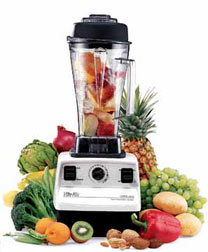 After experiencing firsthand the versatility and power of the Vita-Mix blender, I can recommend it without hesitation to anyone looking for a high quality blender to help make it easier to enjoy a program of healthy eating for adults and kids alike. During the testing process, we made a variety of smoothies, dairy-free ice cream dishes, dips like hummus and salsa, and several fresh soups. We were so impressed with the Vita-Mix that we actually bought one for our own kitchen after my Aunt was off and running on her own at the cafe.
The Vita-Mix blender is particularly good for making green smoothies, which call for fresh fruits and a variety of leafy greens, a great way of ensuring regular intake of nutrient-dense greens. It blends our super green food mixture and cherry powder into smoothies more completely than any other blender that we have tried in the past. It also does a fantastic job of making pure Goji juice out of soaked goji berries and filtered water.
Another great feature of the Vita-Mix blender is that it's extremely simple to wash. There's no need to undo the bottom and wash separate components. In most cases, just a simple rinse will do. If peanut butter or other foods that are dense in healthy fats are used in the blender, then simply running the blender for about 20 seconds with warm water and a drop or two of dish soap, followed by a quick rinse, is all that is needed to get it perfectly clean for the next round.
Here are the key features of the Vita-Mix 5000 blender that make it an excellent investment for your kitchen:
The super-powerful Vita-Mix motor matches the power on Vita-Mix commercial blending equipment found in the finest restaurants worldwide.
Feedback-type variable speed control provides consistent power regardless of load. Speed ranges from 11 m.p.h. to 240 m.p.h., wider than any standard blender.
Unique stainless steel hammer mill and cutting "wet" blades process whole foods like no other appliance to deliver up to 3 times the nutritional value.
Durable, precision-designed 64 oz. container helps drive every particle of food into the blades for consistent results every time.
Spill-proof vented lid with removable lid plug lets you measure and add ingredients safely while machine is running.
Tamper (plunger) for extreme processing power helps when preparing foods such as nut butters and frozen treats.
As mentioned before, clean-up is quick and easy.
As is to be expected with a blender of this quality, the Vita-Mix comes with a 30-day money-back guarantee, as well as a full 7-year warranty. It's more expensive than blenders that you'll find at a department store, but in my opinion, the price is completely justified; if it's within your budget, then I think it's a wise investment for your health.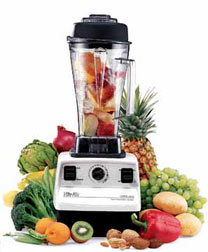 To learn more about the Vita-Mix blender, you can visit the Vita-Mix page at Amazon by clicking here.
As the smoothie bar menu expands at my Aunt's cafe in the months ahead, I'll be sure to share more recipe ideas. Please stay tuned to my weekly newsletter for regular updates on how to use a good blender to promote your best health.
Join more than 80,000 readers worldwide who receive Dr. Ben Kim's free newsletter
Receive simple suggestions to measurably improve your health and mobility, plus alerts on specials and giveaways at our catalogue
Article Tools
Please Rate This